Sir Malcolm Sargent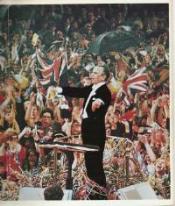 Our school is named after a world famous conductor – Sir Malcolm Sargent who grew up in Stamford.
Sir Harold Malcolm Watts Sargent was an English conductor, organist and composer of music. He lived from 1895 –1967.
He was most famous for conducting concerts sung by choirs. He conducted London's world famous summer music festival 'T
he Proms
' from 1948 to 1967, which made him one of the worlds the best-known English conductors.
He is so famous that in 1980 his picture was on a postage stamp.
---